Kingswood Residential
Kingswood Residential
27 September 2018 (by Paul Cummins (paul.cummins))
Morning from the firelighters in the woodland at camp Kingswood!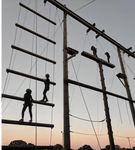 Another chockablock day ahead of us: high equilibrium (a seesaw in the sky); learning to light fires in the woods; orienteering around the campus; archery by the lake and, of course, the teachers' favourite evening activity - the disco!!
Last night we had two options: scrapheap challenge - lots of creative children with cardboard and the film night for those who were needing a bit more rest! All enjoyed by all and everyone asleep by 11 after more hot chocolate and a biscuit.
Big high (and hyper from e-numbers) waves from all!
Year 6 Kingswood Campers
More photos on the Year 6 webpage