Kingswood Residential
Kingswood Residential
26 September 2018 (by Paul Cummins (paul.cummins))
Morning all from our lovely campers, well bunk bed buddies!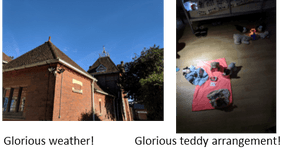 We had a great afternoon yesterday with everyone enjoying aeroball (think trampolines mixed with hot potato and basketball!); Some groups have made the leap of faith and challenged themselves with heights; others have been racing their teammates on the zipwire or helping each other make their way blindfolded around obstacle courses.

We then enjoyed a delicious curry for dinner with everyone trying a little bit at least alongside some wedges before finishing unpacking and getting dorms all sorted with our buddies.

Finally, we all took part in mini olympics, which mixed a bit of drama into the races much to the hilarity of the teachers supporting from the sidelines!
After hot chocolate and a biscuit, bed time wasn't as long as we feared (hooray!) with all rooms nice and quiet by midnight.

Luckily we were first to breakfast today as we were rather peckish and most seemed to have seconds - it really was a treat: full English options; a variety of cereals; hot drinks and toast!
We are all enjoying our first session now - fencing, powerfan, zipwire, shelter building and Jacobs ladder! Lots of excitement to start the day!

Sending love home from all here!

Year 6
PS picture attached of our glorious weather and the winning girl dorm's teddy arrangement! What tidy rooms we had this morning!!
Leah Wright
Year Six Leader