Netball News
Netball News
9 July 2018 (by Paul Cummins (paul.cummins))
Huge congratulations to the year 6 netball team who came runners up at the Schools' netball tournament on Thursday 28th June.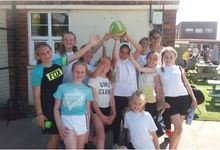 Despite the boiling hot conditions the girls played brilliantly during the first round winning 4 out of 5 games. It was a nail biting semi-final against Cottesmore (who had beaten us 10-5 earlier on in the season), but due to amazing defence and great shooting, we managed to beat them 6-5. It was a close final against Goldstone and after a very hard 10 minutes the final score was 2-1 to the opposition. All the girls played their hearts out on Thursday and I am very proud of how they competed so fairly and also how treated the other teams and umpires with respect.
It has been a pleasure to coach our Year 6 team this year.

Miss Sumner