BRUNSWICK HAS FULLY RE-OPENED, WELCOME BACK
BRUNSWICK HAS FULLY RE-OPENED, WELCOME BACK
7 September 2020 (by Paul Cummins (paul.cummins))
Welcome back to all children and families.  It was great to see you this morning.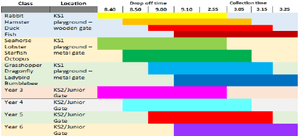 I have dropped in to say hello to all of the children and they are looking happy, healthy and well settled. I'm sure that you are missing them already but let me assure you they are having a lovely time. Playtime is in full, staggered, swing and it is wonderful to see and hear the children on the field.
Today was the first day of school for many after a long break. I could tell that families were feeling equal measures of excitement and nerves. I have just met with the Deputy Heads to find out how day 1 of the new normal went. We would like to share with you some reminders and pointers to make tomorrow onwards run more smoothly -
Know your timings - if your child is due at 8.40 that is the time they arrive ( I have attached a timetable - please look at it and remember your times.) This week only your child will be re-joining the class that they were in when school was last open in March
1 adult only from each family should drop at the gate - today some adults, of younger children, came on site briskly, tomorrow we request that you stay at the gate
Physical distancing is to be observed to protect all of the community - adults must stay 2 metres apart from each other and model this behaviour to the children
Collect on time - if you need to collect from class
(younger children) only 1 adult please at the exact collection time and then leave briskly - please do not congregate on the pavements outside the school or on the road as this comprises our Covid 19 risk minimising
General reminders -
Children can bring to school - PE kit
- Lunch boxes
- Water bottles - these can be refilled at the water fountains
I have every confidence that together we are going to be able to make this work if we all play our part.
Best wishes
Alison Colbran