Bird Feeder Recipes
Honey Sticks
One way to keep birds returning to the garden and to help them feed their young is to provide them with some food. This simple recipe for Honey Sticks will keep birds happy:
What you need:
- A few sticks which are fairly wide in diameter – 1cm or over
- Some lengths of string – long enough to thread through the stick and hang the Honey Stick from a bird table or branch
- A jar of honey
- Bird seed mixture (beware of nuts in case of allergies)
Ask your children to find the sticks. Make a hole in one end for them and thread the string through. Then together, cover the stick in honey and then roll it in the bird seed. Hang the stick from your bird table or anywhere else you think the birds might be tempted to eat it

Cheerio bird feeder
Easy Cheerio Bird Feeders for children to make. A great way for kids to connect with nature, and a super fine-motor activity too!
What you need:
- 3 pipe cleaners
- Cheerios
- Blueberries / Grapes
- Something to hang your bird feeder with i.e. raffia, yarn, string etc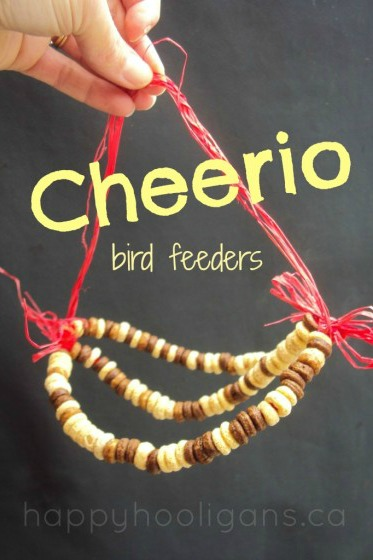 Start by threading cheerios and the fruit onto 3 pipe cleaners.
Leave a bit of space at each end, and take 2 pipe cleaners, and twist the ends together to form a circle.
Now, take your 3rd pipe cleaner, and lay it across the circle. Twist those ends around the gaps in the circle where your first two pipe cleaners were joined. This 3rd pipe cleaner will serve as a perch for small birds to sit on.
Tie a length of raffia or ribbon or yarn to the top of the pipe cleaner so you can hang it from a branch.

Bird cookies
You will need;
-1 cup birdseed
-1/4 cup water
- 1 sachet unflavoured gelatin
-string/ ribbon
-greaseproof paper
-straws
-cookie cutters
(makes 2 cookies)
Directions:
-add gelatin to a pan
- add ¼ cup of water and simmer, whilst stirring until gelatin dissolved
- add 1 cup of birdseed (you can add more if there is too much liquid)
-mix together
- lay greaseproof paper on baking sheet
-lay cookie cutters on top and spoon the birdseed mixture in all the way to the top
Next, cut a straw which is about an inch or two long and poke a hole through the top of each cookie cutter mold. Leave the straw in whilst the misture dries.
-Allow to dry overnight then remove the cookie cutters and straws.
-Insert the string through the hole

Fat Cakes
Birds love fat cakes and at this time of year they're just what they need to give them energy and keep warm. But the feeding balls needn't be shop bought; you can use all sorts of kitchen scraps such as cheese and dry porridge oats. Just mix with melted lard or suet and set in the fridge overnight.
Avoid using turkey fat, which doesn't set like suet and lard, and can coat birds' feathers, preventing them from being able to fly. It can also spread disease.
You will need;
Lard or suet

String or twine

Old yoghurt pots

Any of the following: wild bird seed, currants, sultanas, oats, bread and cake crumbs, grated cheese and peanuts (if no allergies)
How to do it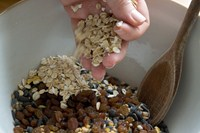 1
The best ratio for this recipe is one part fat to two parts dry mixture. Mix all your dry ingredients together in a bowl.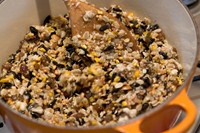 2
Melt some lard or suet in a pan and add the dry mix. Stir well until the fat has all been absorbed and the mixture sticks together.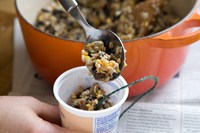 3
Make a hole in the bottom of a yoghurt pot and thread through a length of twine or string, then pack the pot with your warm fat mixture.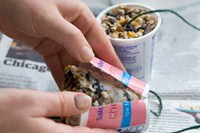 4
Place in the fridge overnight to set, then cut through and peel away the pot. Tie a big knot at one end of the twine to secure the cake.
5
Hang the cake in a tree or shrub and wait for the birds to come and feast.